Classes offered during our fall/spring season are $15.75 or less per class plus sales tax. Discounts will be given for multiple classes and students per family.
Dear future River City Youth Ballet Ensemble and River City School of Dance families,
When you register, you will be directed to a parent portal. Once there, you can select classes as well as read through the waivers and policies. Note that class sizes will be limited and based on a first come first serve enrollment basis. If you do not get a class that you want, you will be placed on an automatic waiting list and if an opening would occur you will be notified. We reserve the right to cancel a class if there are fewer than 4 dancers in a class.
Your tuition will be prorated over 8 payments. There are a total of 28 classes in a season. Starting in December you will have a longer break and you will not be charged. Your full prorated tuition fees will be due for the months of August-November and January-April. Please let us know if you have any difficulties signing up!
Fall/Spring 2023-2024 Class Schedule
and Registration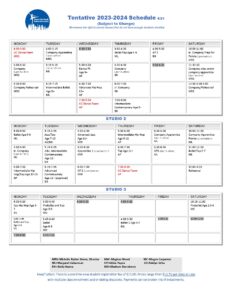 Clendenin 2023-2024 Class Information
Supplemental COVID-19 Policies
While we are living in an unprecedented and uncertain time, we at River City Youth Ballet Ensemble and School of Dance want to put health and safety for our dancers, and faculty first and foremost!
We will be following both State and local policies as well as adapting a few extra policies on our own to insure a healthy comeback. Please note these policies may change due to the changing nature of covid-19 and both state and local mandates.
Class Times:
To avoid congestion in the hallways, we ask that you try to arrive at the studio just a few minutes prior to your class and exit the studio as soon as your class dismisses.
Before you come:
If someone in your immediate family has had a sore throat, fever, or has been in contact with anyone with covid-19, please stay home. Please note that classes are non-refundable but you can always take a make-up class-just ask your instructor!
We have several hand sanitizing stations around the studio and ask that once you have entered you please immediately wash or sanitize your hands. Please note that we will also have dancers use hand sanitizer once in the classroom.